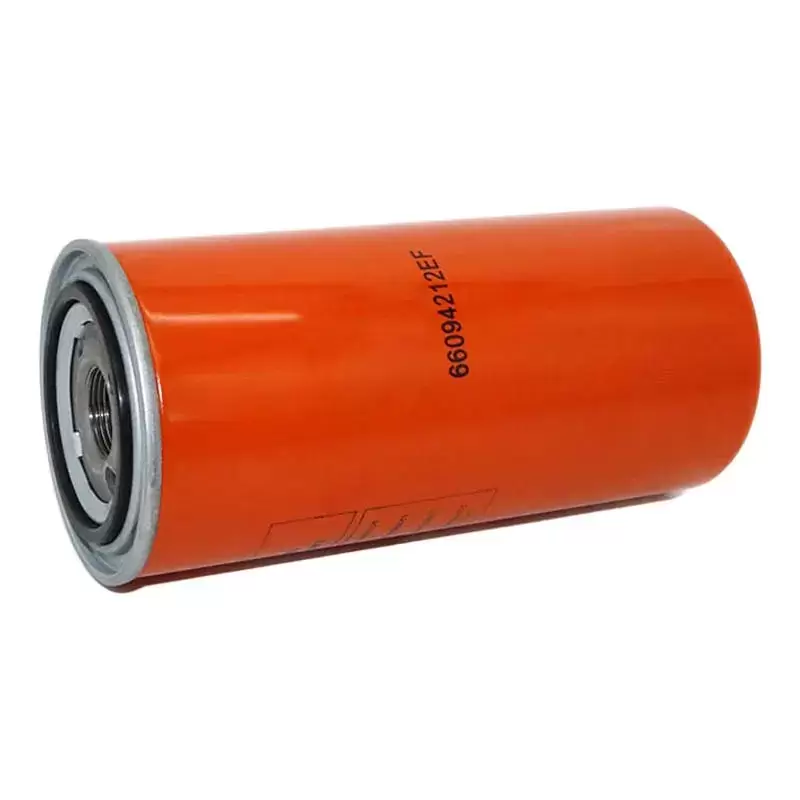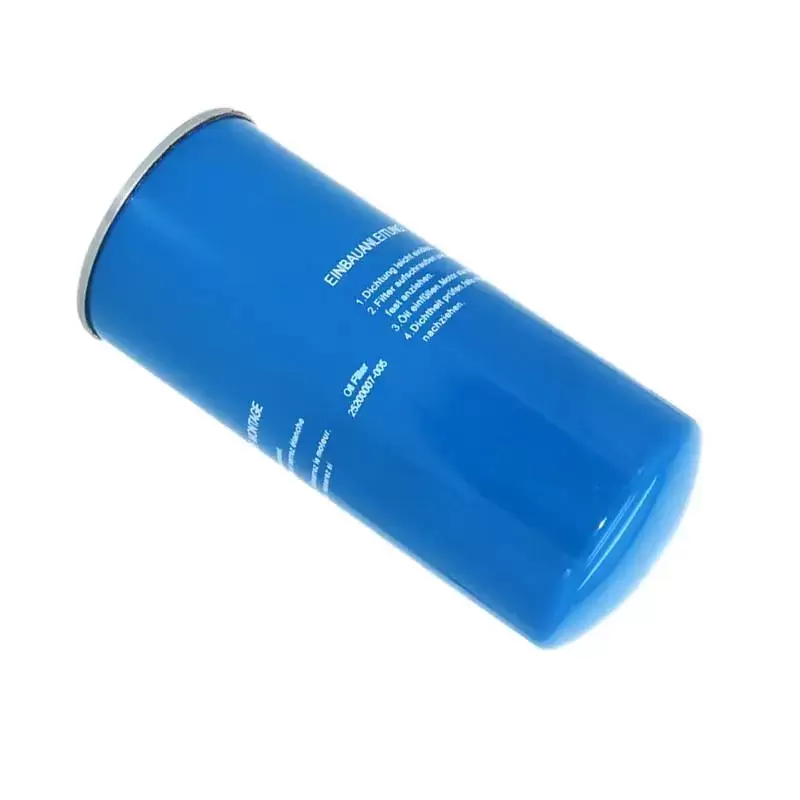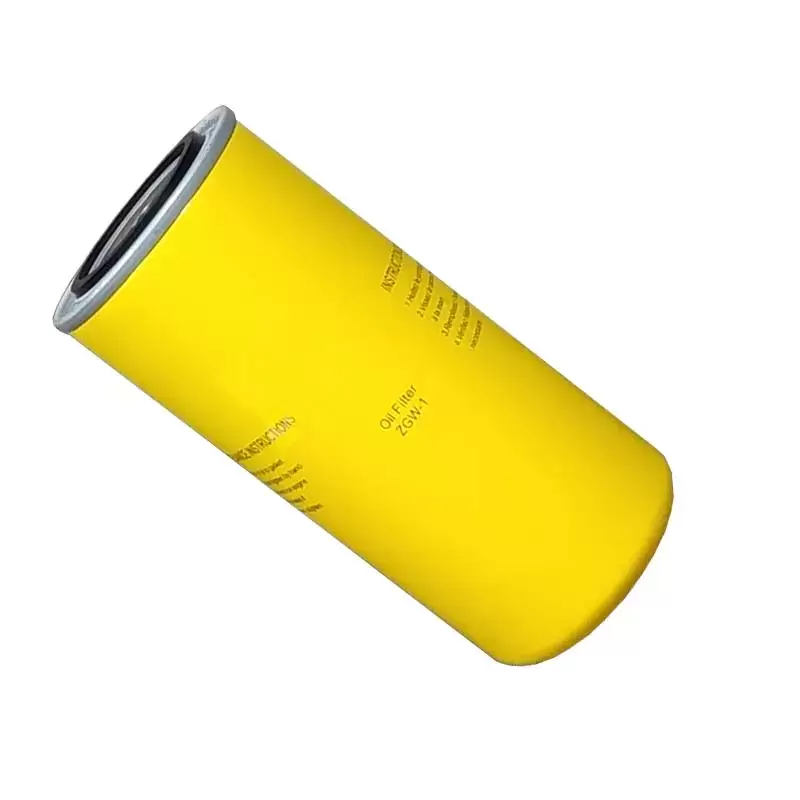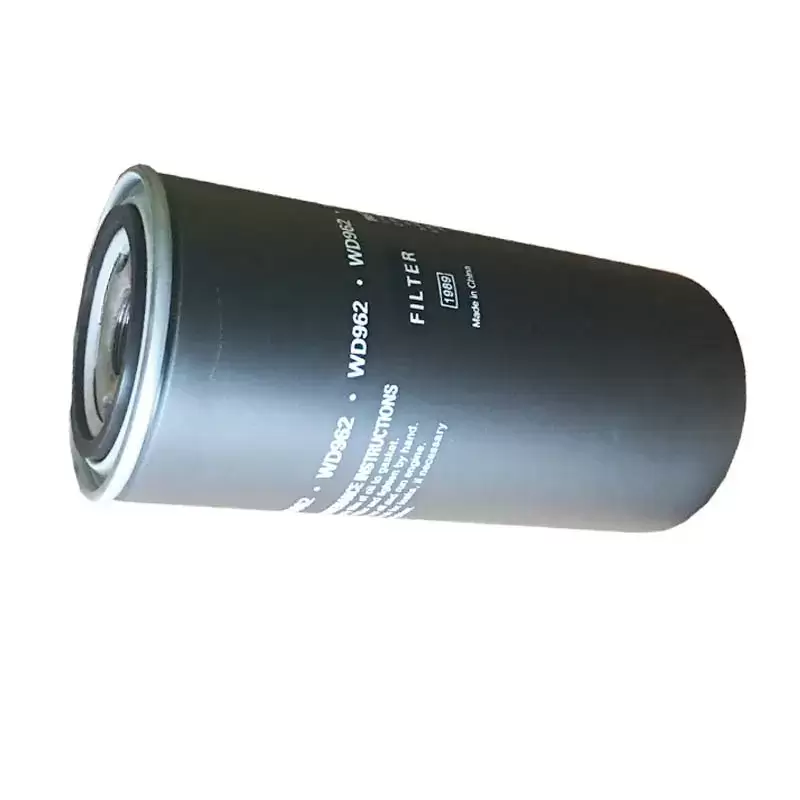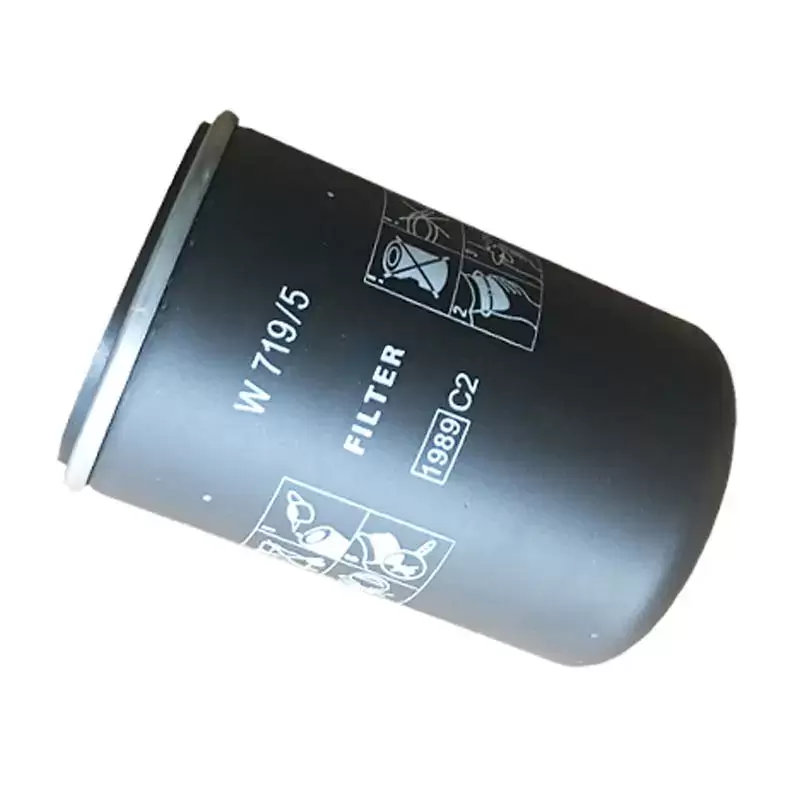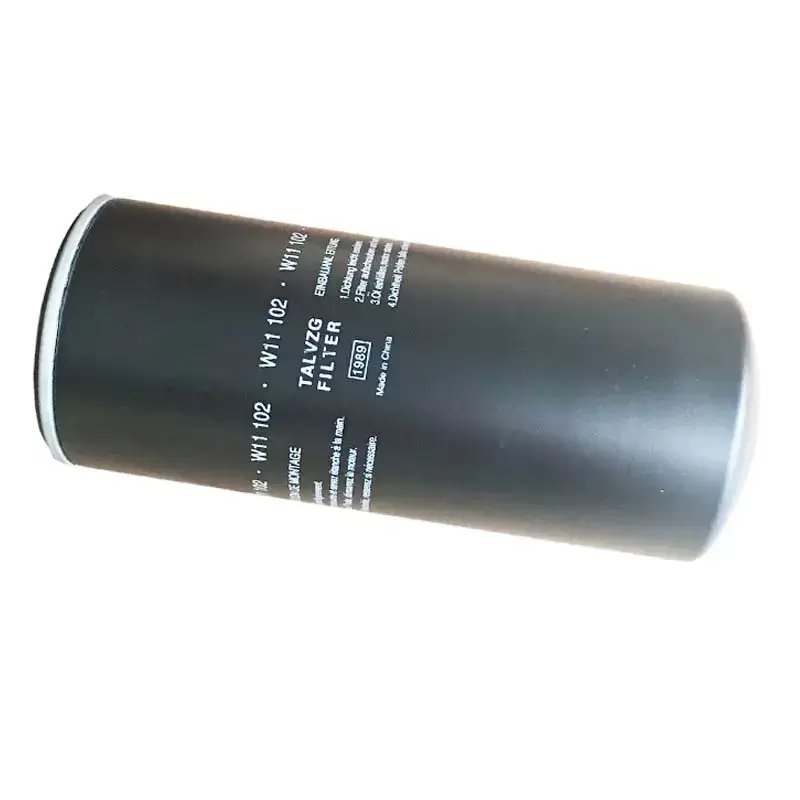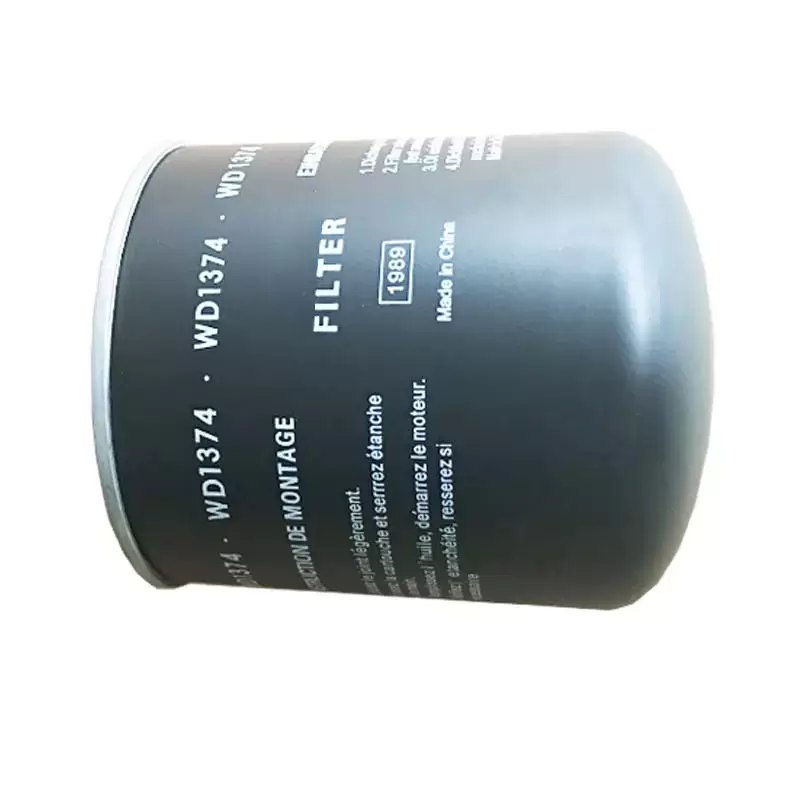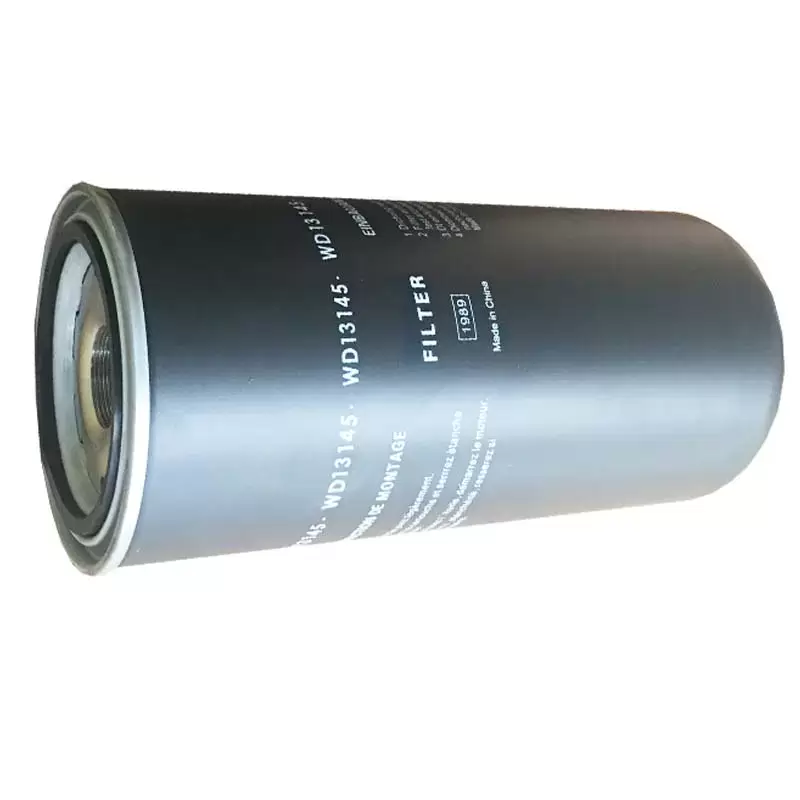 1. Filtering precision: 5-10 Micron.
2. Filtration efficiency: 98%
3. Service life is approximately: larger than 2000h.
4. Used for screw air compressor.
Oil filter
Filter impurities and retain beneficial ingredients
Specially designed bypass valve, compatible with rotor lubricant
Good water resistance and corrosion resistance and strong anti-pulse ability, reliable use
The normal operation of the machine under severe lubrication conditions reduces the risk of failure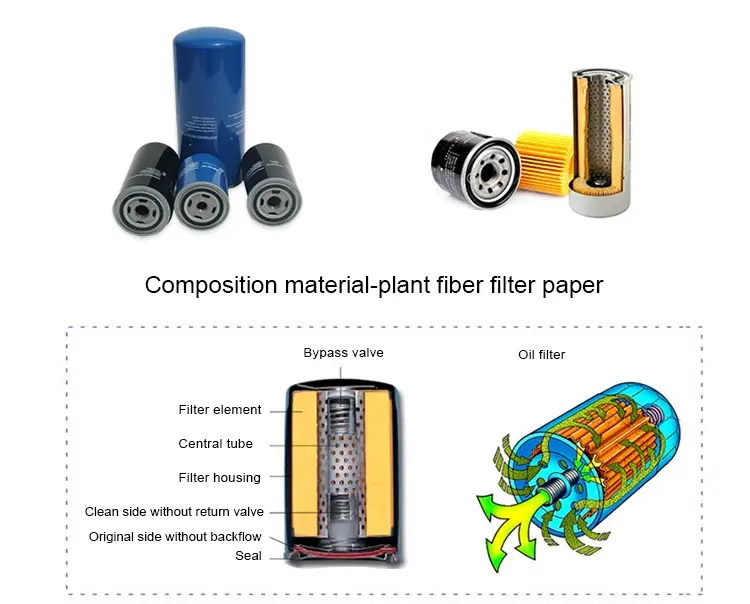 ANKA Filter chooses the excellent quality materials for all end covers, filter materials, and glue, the highest configuration. The filter material adopts imported American glass fiber, which has a long service life, guarantees the filtering effect, and reduces fuel consumption.
| | | | |
| --- | --- | --- | --- |
|  Machine Model | Air Filter | Oil Filter |  Separator |
| Small UP |  88171913 |  39329602 |  22388045 |
|  UP5-11/15/22 |  89295976 | 54672654 |  54749247 |
|  UP5-30/37 |  22203095 | 54672654 |  54749247 |
| M22 OLD |  42888214 | 42888198 |  39751391 |
| M22S | 39588470 | 39907175 | 54595442 |
| M22 | 39588470 | 39907175 | 39831888 |
|  ML22 | 39588470 | 39907175 | 92890334 |
|  M37 OLD |  99273906 | 42888198 | 92754688 |
|  M37 | 39588777 | 39907175 | 39831888 |
|  M37S | 39588777 | 39907175 | 54595442 |
|  M45 | 39708466 | 39911615 | 22089551 |
|  M55-75 | 39708466 |  39911631 |  54601513 |
|  M55S-75S | 39708466 |  39911631 | 39894597 |
|  M90-110/160 |  39903281 |  39911631 |  54509427 |
|  M90-110/160 |  39903281 |  39911631 |  54509427 |
| M132-160 | 39903281 |  39911631 |  54509427 |
|  M200-250 | 39903265 | 92888262 |  22219174 |
|  M300-350 | 39903265 | 92888262 | 54509435 |
|  M250 | 42852129 | 92888262 | 39890660 |
|  M110 | 39903281 | 39911631 | 88181755 |
| MR ED M200/250 |  39903265 |  92888262 | 54509500 |
| MR ED M300/350 |  39903265 |  92888262 | 54509435 |
| XF/EP/HP/XP-30SE | 42855429 | 39907175 | 39831888 |
| XF/EP/HP/XP-50SE | 42855411 | 39907175 | 39831888 |
|  XF/EP/HP/XP75-100 | 99267031 | 99270134 | 42841239 |
| XF/EP/HP/XP75-100 | 99267031 | 42841361 | 42841239 |
|  XF/EP/HP/XP75-100 SE | 42855403 | 42841361 | 39894597 |
|  XF/EP/HP/XP75-100 SE | 42855403 | 42843771 | 54601513 |
| XF/EP/HP/XP75-100 SE | 42855403 | 42843797 | 5601513 |
|  XF/EP/HP/XP 125-200 |  99266702 | 99274060 | 42841247 |
| XF/EP/HP/XP 125-200 |  99266702 | 99274060 |  39799578 |
| XF/EP/HP/XP 125-200 |  99273906 |  42843805 | 42841247 |
|  XF/EP/HP/XP 125-200 |  99273906 | 42843789 | 39739578 |
| 125S/150S/175S/200S | 39903281 |  39856836 |  39863865 |
| M90/M110/M132/M160 | 39903281 | 39911631 | 99277998 |
|  M90/M110/M132/M160 | 39903281 | 39911631 | 54509427 |
| HPE300 | 39750723 | 92888262 | 39863899 |
|  VHP400/600/P600 | 92686948/ 92686955 | 99246092/93 | 92699198 |
|  VHP600/700 | 92035948 | 99274060 |  92062132 |
|  VHP600/700 | 92035955 |  99274060 |  92062132 |
|  S100- |  99267031 | 42843797 |  42841239 |
|  S200- | 99266702 | 42843805 | 42841247 |
|  IR 37PE |  22203095 |   54672654 |  54749247 |
|  IRN.55-75KW | 54672530 |  54672654 | 38008587 |
|  IRN.90-160KW | 22130023 |  39911631 | 42542787 |
|  V5.5-11 |  88171913 | 39329602 |  22388045 |
|  V15-22 | 46856837 | 46853099 |  46853107 |
| V30-37 |  46856845 | 46853099 |  46853107 |
|  125-200S |  39903281 | 39856836 | 54509427 |
| 125-200S |  39903281 | 39911631 | 39863865 |
| 30SE | 42855429 | 39907175 | 39831888 |
| 50SE |  42855411 | 39907175 | 39831888 |
|  70SE/100SE | 42855403 | 42843797 | 39894597 |
|  R5-11 1U | 88171913 | 39329602 | 22388045 |
|  R90-110N,R90-110 I | 23429822 | 23424922 | 23545841 |
|  R132-160NE,R132-160 I | 23429822 | 23424922 |  23566938 |
|  R90-160NE,R90-160 IE | 23429822 | 23424922 |  23566938 |
| R160 | 23487457 | 23424922 |  23566938 |
| GA5/7/10 | 1503019000 |  1513033700 |  1513005800 |
|  GA5/7/10/5C/7C/11C |  1613900100 | 1613610500 |  1613901400 |
|  GA5C/7C/11C |  1613900100 | 1613610500 | 1622087100 |
|  GA11/15/18/22 | 1619126900 | 1613610500 | 1612386900 |
|  GA11/15/18/22 | 1619126900 | 1613610500 | 1613692100 |
|  GA11/15/18/22 | 1619126900 | 1613610500 | 1613750200 |
|  GA11/15/18/22/30C | 1613872000 | 1613610500 | 1622007900 |
| GA11/15/18/22/30C | 1613872000 | 1613610500 | 1622051600 |
|  GA11+/15+/18+/22+ | 1613872000 | 1613610500 | 1622051600 |
|  GA11+/15+/18+/22+/26+/30 | 1613872000 | 1622783600 | 1625703600 |
|  GA11/15/18/22 | 1613872000 | 1613610500 | 1622035101 |
|  GAe11/15/18 | 1613872000 | 1625752500 | 1625775300 |
|  GAe22/26/30 | 1613872000 | 1625752500 | 1625775400 |
|  GA30/37 | 1619279700 | 1613610500 | 1202641400 |
|  GA30/37/45 | 1619279700 | 1613610500 | 1613688000 |
| GA30/GA37 | 1619279700 | 1613610500 | 1613839700 |
|  GA37/45/50/55C/50VSD | 1613740800 | 1613610500 | 1613839702 |
| GA30+/37+/45+ | 1613740800 | 1622314280 | 1622314000 |
|  GA30AP/37AP/45AP |  1613740700 | 1622314280 | 1622646000 |
|  GA55/75/90 |  1619279800 |  1613610500 | 1613730600 |
|  GA55/75/90 |  1613800400 |  1613610500 | 1613800700 |
|  GA55/75/90C |  1613950300 |  1613610500 | 1613984000 |
|  GA55+/75+ |  1613950300 |  1622365200 | 1622365600 |
|  GA55AP/75AP | 1622185501 | 1622314200 | 1622569300 |
|  GA90AP |  1613950300 | 1613610500 | 1622365600 |
|  GA90/110/132/160 |  1619378400 | 1613610500 | 1614642300 |
|  GA90/110 |  1621054799 | 1621054700 | 1614905400 |
|  GA90/110 |  1621574299 | 1613610500 | 1621938499 |
|  GA90/110 | 1621510700 | 1613610500 | 1614905400 |
| GA90/110 from 2009.3 | 1621737600 | 1621737800 | 1614905400 |
|  GA132/160 |  1621057499/ 1030097900 | 1613610500 | 1030097900 |
|  GA132/160 | 1621574299 | 1613610500 |   |
| GA132/160 from 2009.3 | 1621737600 |  1621737800 | 1614905600 |
| GA132/160/180 | 1621510700 |  1613610500 | 1614905600 |
|  GA132+-7.5bar | 1621737699 | 1621737890 | 1623051599 |
|  GA160+-7.5bar |  1621737699 | 1621737890 | 1623051499 |
|  GA200/250/315 | 1030097900 | 1614727300 | 1614704800 |
| GA200/250/315 |  1621054799 | 1614727300 | 1614952100 |
|  GA200/250/315 | 1621574299 | 1614727300 | 1621938699 |
| LS10-25/30/40HP | 40596 | 250025-525 | 02250121-500 |
|  LS10-25/30/40 NEW | 02250044-537 | 250025-525 | 02250121-500 |
|  LS10-25/30/40 | 02250131-496 | 250025-525 | 250034-112 |
|  LS12-50 | 02250131-498 | 250025-526 | 02250100-755/ 02250100-756 |
|  LS16-60/75 | 02250131-499 | 250025-526 | 250034-116/ 250042-862 |
|  LS16-60 NEW | 88290002-337/88290002-338 | 250025-526 | 02250061-137/ 02250061-138 |
|  LS16-75 NEW | 88290002-337/88290002-338 | 250025-526 | 02250061-137/ 02250061-138 |
| LS16-100 | 02250046-012/02250046-013 | 250025-526 |  250034-116/ 250042-862 |
|  LS16-100 NEW | 88290002-337/88290002-338 | 250025-526 | 02250061-137/ 02250061-138 |
| LS20-125 | 02250135-148/409854 | 250025-526 |  250034-085/ 02250048-734 |
|  LS20-150 | 02250135-148/409854 | 250025-526 |  250034-085/ 02250048-734 |
|  LS20-150 NEW | 88290001-469 | 250025-526 |  250034-085/ 02250048-734 |
|  LS20-175/200 | 02250135-150/ 048463 | 250025-526 |  250034-122/ 250034-134 |
|  LS20-175/200 NEW | 88290003-111 | 250025-526 |  250034-122/ 250034-134 |
|  LS25S-250/300/350 | 88290001-466 | 02250139-996 | 250034-124 |
|  NEW | 88290001-467 |   |  250034-130 |
|  LS25S-250/300/350 | 250007-838/250007-839 |  250008-956 |  250034-124/ 250034-130 |
|  LS32 | 88290004-372 | 02250139-996 | 02250109-319/ 02250109-321 |
|  WS1800 | 02250125-371 |  02250155-709 |  02250109-319/ 02250109-321 |
|  WS2200 | 02250125-371 |  02250155-709 |  02250137-895 |
|  WS3000 | 02250125-372 |  02250155-709 |  02250137-895 |
|  WS3700 | 02250127-684 |  02250155-709 |  02250100-755/ 02250100-756 |
Items
maintenace action
everyday
everyweek
500h
1500h
2500h
6000h
12000h
18000h
30000h
every month
every season
half year
1 year
2 years
3 years
5 years
The indicator light panel
check any unusual indicator light
check and adjust
 
 
 
 
 
 
 
 
Discharge temperature
check if temperature in 70-95 degree level
check and adjust
 
 
 
 
 
 
 
 
condensed water in oil barrel
drain water
check and adjust
 
 
 
 
 
 
 
 
oil level
check
check and adjust
 
 
 
 
 
 
 
 
joint hose for air suction
check/replace
 
 
 
 
check and adjust
 
 
 
 
pipeline(rubber/metal pipe)
check/replace
check and adjust
 
 
 
 
 
 
replace
 
pipeline joint
check if any leak
 
 
 
 
 
check and adjust
 
 
 
cooler
clean
 
clean
 
 
 
 
 
check and adjust
 
cooling fan
clean
 
clean
 
 
 
 
 
 
 
air filter for air suction
clean/replace
 
clean
 
 
replace
 
 
 
 
pre-filter net
check/clean
 
clean
 
 
 
 
 
 
 
Electromagnetic switch contact
check/clean
 
clean
 
 
 
 
 
 
 
electrical equipment connect
adjust
 
 
check and adjust
 
 
 
 
 
 
belt and belt pulley
adjust/replace
 
 
check and adjust
 
replace
 
 
 
 
oil filter
replace
 
 
for new machine
 
replace
 
 
 
 
main motor
inject bearing grease
 
 
 
check and adjust
 
 
 
 
 
shaft seal for screw head
check/replace
 
 
 
 
check and adjust
 
 
 
 
screw compressor oil
inject/replace
 
 
for new machine
 
replace
 
 
 
 
oil separator
replace
 
 
 
 
replace
 
 
 
 
electrical insulation
check circhurt by multimeter
 
 
 
 
 
check and adjust
 
 
 
thermal control valve
check/replace
 
 
 
 
 
check and adjust
 
 
 
air suction valve
check/clean/replace
 
 
 
 
 
check and adjust
 
 
 
min-pressure valve
check/clean/replace
 
 
 
 
 
check and adjust
 
 
 
safety valve
check/replace
 
 
 
 
 
check and adjust
replace
 
 
discharge solenoid valve
check/clean/replace
 
 
 
 
check and adjust
 
 
 
 
pressure sensor
verify check
 
 
 
 
 
check and adjust
 
 
 
temperature sensor
verify check
 
 
 
 
 
check and adjust
 
 
 
compressor bearing
check/replace
 
 
 
 
 
 
check and adjust
 
replace