ANKA AIV SERIES INTAVE VALVE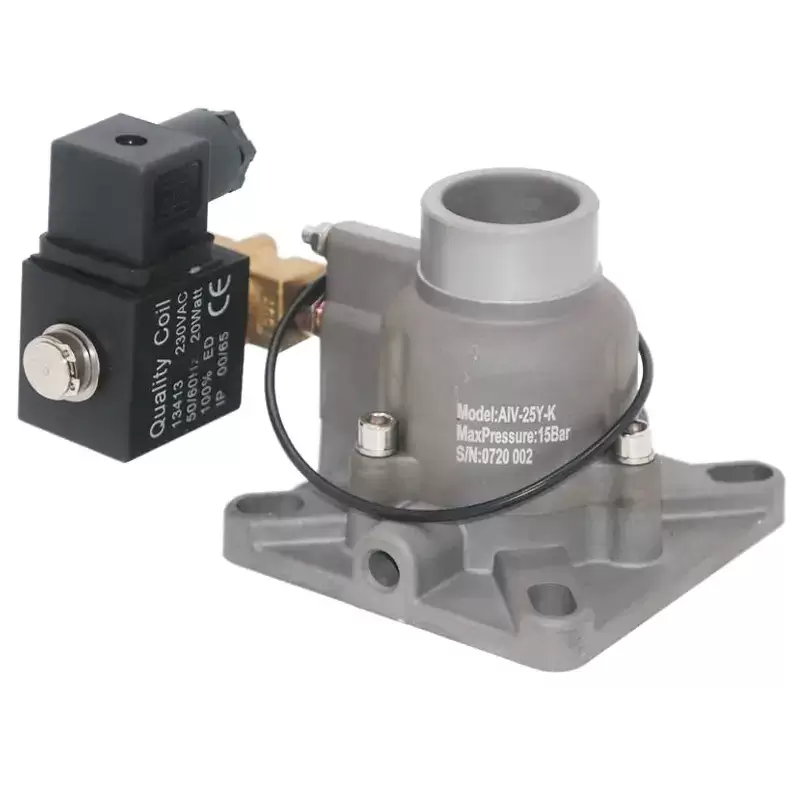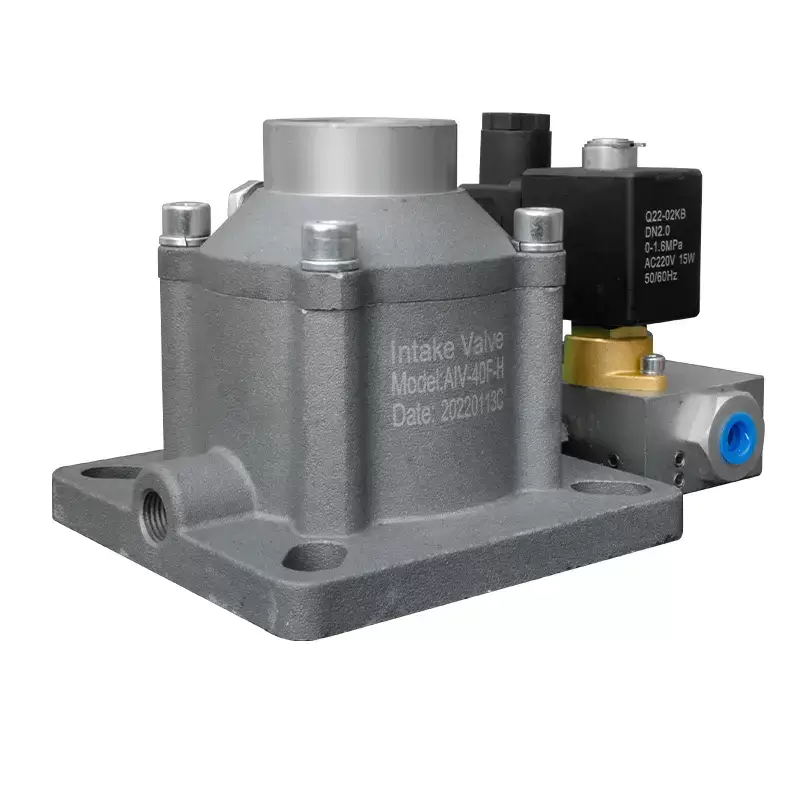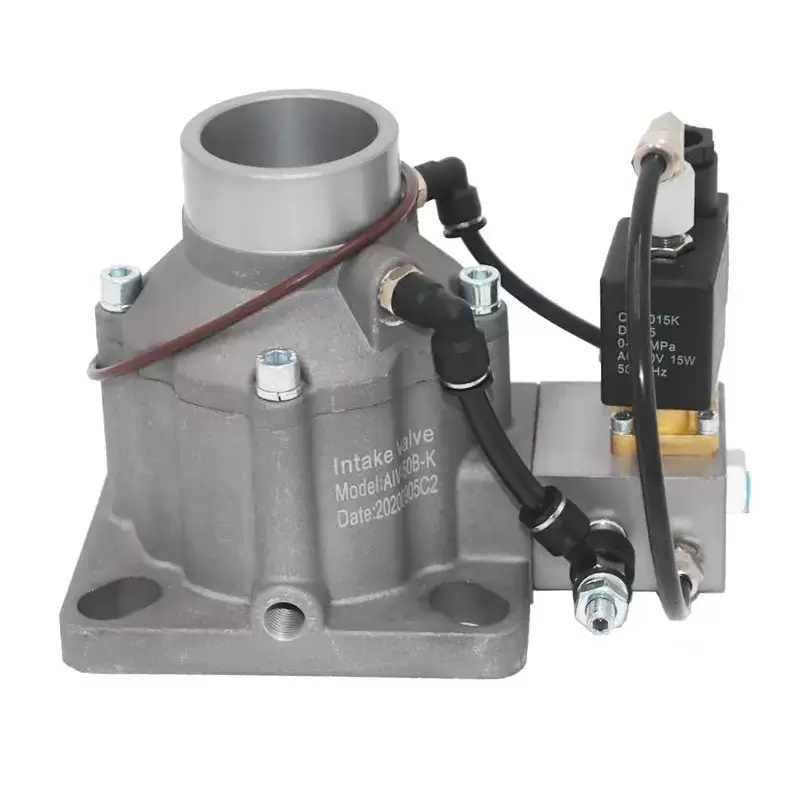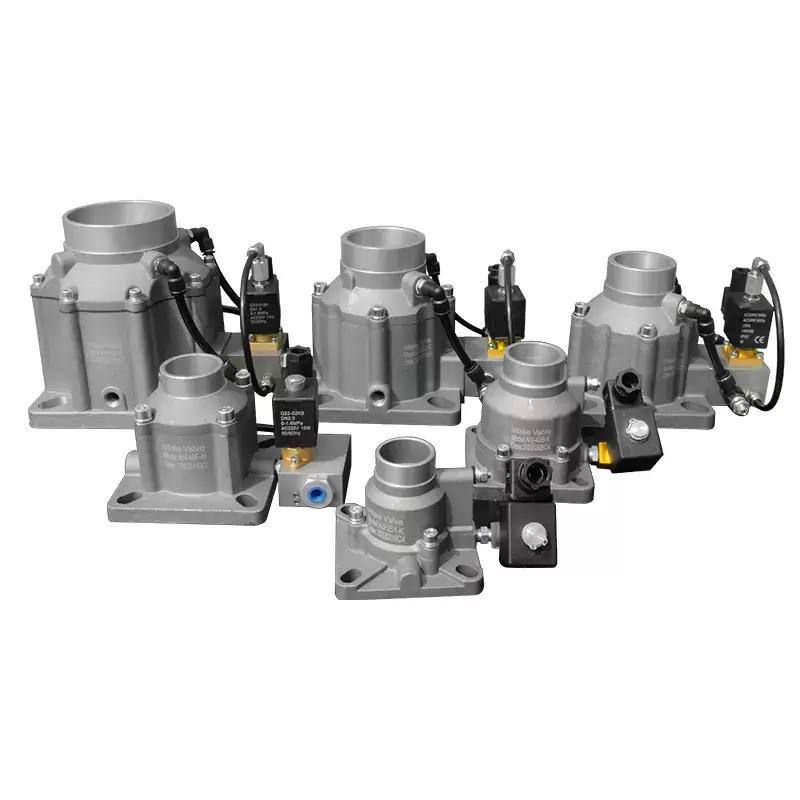 anka_compressor_intake_valve_2




Features:
Application: Power Frequency Oil-injected Screw Compressor
It's N/O type and will close in response to a control pressure signal.
Special structure design solves the problem of high start load.
At shutdown, intake valve has check function to prevent oil injection through the compressor.
Intake valve can eliminate cavitation noise from air-end by air admission when unloading.
Integration of discharge valve, air admission valve, solenoid valve and proportional valve into an intake valve makes it install easily and quickly.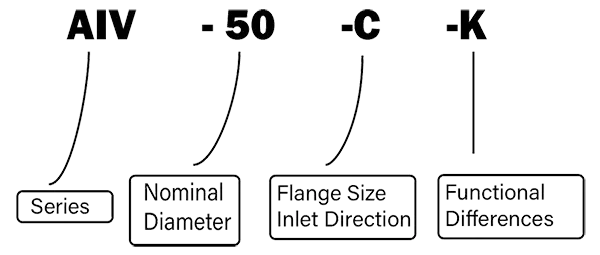 | | | | | | |
| --- | --- | --- | --- | --- | --- |
| Model  | Diameter | Flow(m³/min) | Max Working Pressure(Bar) | Working Medium Temperature | Working Temperature |
| AIV-25B  | 25 | 0.5-1.2 | 16 | -20-120 | -20-60 |
| AIV-25Y  | 25 | 0.5-1.2 | 16 | -20-120 | -20-60 |
| AIV-40A  | 40 |  1-2.5 | 16 | -20-120 | -20-60 |
| AIV-40B  | 40 |  1-2.5 | 16 | -20-120 | -20-60 |
| AIV-40C  | 40 |  1-2.5 | 16 | -20-120 | -20-60 |
| AIV-40F  | 40 |  1-2.5 | 16 | -20-120 | -20-60 |
| AIV-40J  | 40 |  1-2.5 | 16 | -20-120 | -20-60 |
| AIV-50A | 50 | 2.5-4.2 | 16 | -20-120 | -20-60 |
| AIV-50B  | 50 | 2.5-4.2 | 16 | -20-120 | -20-60 |
| AIV-65A | 65 | 4-7 | 16 | -20-120 | -20-60 |
| AIV-65C  | 65 | 4-7 | 16 | -20-120 | -20-60 |
| AIV-85B  | 85 | 8-14 | 16 | -20-120 | -20-60 |
| AIV-85F | 85 | 8-14 | 16 | -20-120 | -20-60 |
| AIV-100  | 100 | 12-18 | 16 | -20-120 | -20-60 |
| AIV-120B  | 120 | 18-25 | 16 | -20-120 | -20-60 |

| | | | | | | | | | | |
| --- | --- | --- | --- | --- | --- | --- | --- | --- | --- | --- |
| Model | Inlet Direction | A | B | C | D | E | F | G | Interface Size | O-Ring Size |
| AIV-25B | Vertical | 75X80 | 55/60 | 62X55 | 53X53 | 74 | ø40 | 4-ø9 | G1/8 | 53X2.65 |
| AIV-25Y | Vertical | 99X99 | 74 | ø104 | ø115 | 83 | ø40 | 4-ø11 | G1/8 | 87.5X2.65 |
| AIV-40A | Horizontal | 100X100 | 74 | ø104 | ø115 | 105 | ø48 | 4-ø9 | G1/4 | 87.5X2.65 |
| AIV-40B | Vertical | 100X100 | 74 | ø104 | ø115 | 105 | ø48 | 4-ø9 | G1/8 | 87.5X2.65 |
| AIV-40C | Vertical | 100X100 | 74 | ø104 | ø115 | 105 | ø48 | 4-ø9 | G1/4 | 87.5X2.65 |
| AIV-40F | Vertical | 120X120 | 84 | ø119 | ø133 | 105 | ø50/48 | 4-ø9/ø13 | G1/4 | 92X3 |
| AIV-40J | Vertical | 137X137 | 104 | ø135 | ø160 | 105 | ø50 | 4-ø14 | G1/4 | 113X3.55 |
| AIV-50A | Horizontal | 134X134 | 76 | ø100 | ø115 | 139 | ø62 | 4-ø18 | G1/4 | 90X3.5 |
| AIV-50B | Vertical | 134X134 | ø100 | ø134 | ø150 | 139 | ø62/ø60 | 4-ø18 | G1/4 | 110X3.5 |
| AIV-50B | Vertical | 134X134 | ø100 | ø130 | ø156 | 142 | ø78 | 4-ø13 | G1/4 | 110X3.5 |
| AIV-65C | Vertical | 150X150 | ø113 | ø149 | ø170 | 156 | ø78 | 4-ø18 | G1/4 | 117X3.5 |
| AIV-65A | Horizontal | 146X146 | ø110 | ø143 | ø170 | 95 | ø78 | 4-ø18 | G1/4 | 117X2.65 |
| AIV-85B | Vertical | 165X165 | ø119 | ø160 | ø176 | 180 | ø100 | 4-ø17 | G1/4 | 132X3.55 |
| AIV-85B | Vertical | 165X165 | ø119 | ø160 | ø176 | 180 | ø100 | 4-ø17 | G1/4 G1/2 | 132X3.55 |
| AIV-100 | Vertical | 154X154 | 114 | ø152 | ø172 | ø250 | ø125 | 4-ø18 | G1/4 | 125X3.5 |
| AIV-120B | Vertical | / | / | / | ø225 | ø305 | ø150 | 8-ø18 | G1/4 | 190X4 |